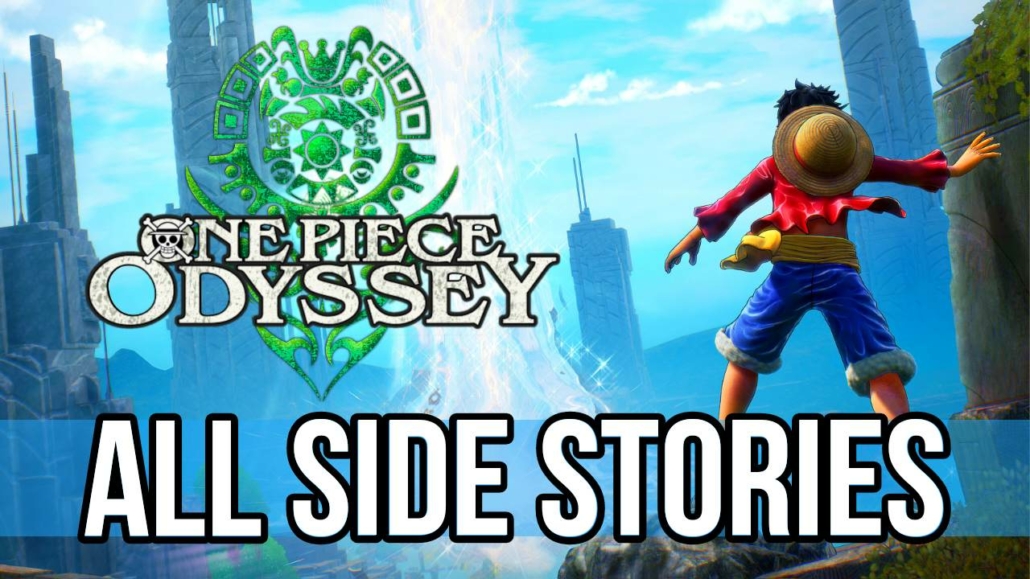 There is a total of 71 Side Stories in One Piece Odyssey. They are located across all 4 Memorias and Waford. Most of the Side Stories become available as soon as you enter a new Memoria. 1 Side Story (Waford) become available after defeating the Final Boss.
NOTE: Nothing is missable! Everything can be completed after finishing the Main Story.
There are a few Side Stories that need to be completed in a specific order. For example:
The Truth About Eye-Lashes > Why Eye-Lashes Enlisted
Master and Student Showdown > Master and Student Rematch > Master and Student Final
Grand Line Quiz Kide Level 1-3 > Grand Line Quiz Lady Level 1-3 >Grand Line Quiz Madam Level 1-3 > Grand Line Quiz Mister Level 1-3
God Usopp 1 > God Usopp 2 > God Usopp 3
The easy way to find your next Side Story is to open the pause menu, go to Episode > Side Stories. Here you can see where the Side Stories are located, along with the next objective.
Completing all 71 Side Stories can take anywhere from 5-10 hours. It depends on how many Yaya Cubes you have collected throughout the main story and how many Side Stories you have completed along the way.
Side Story Overview
Alabasta (16 Side Stories)
Nanohana (4 Side Stories)
Side Story #1: Master and Student Showdown
Side Story #2: More Important Than Berries
Side Story #3: Meditator Marzin's Quest
Side Story #4: Hungry Navi Bird
Great Sandy Desert (6 Side Stories)
Side Story #5: The Truth About Eye-Lashes
Side Story #6+#7+#8: Grand Line Quiz Kid Level 1-3
Side Story #9: Night Exterminator
Side Story #10: Master and Student Rematch
Desert near Alubarna (2 Side Stories)
Side Story #11: Master and Student Final
Side Story #12: Battlefield Courier
Alubarna (4 Side Stories)
Side Story #13: That Tea Tastes Thorny
Side Story #14: Why Eye-Lashes Enlisted
Side Story #15: Talented Doctor
Side Story #16: Dance Rehearsal
Water Seven (9 Side Stories)
Water Seven City Area (9 Side Stories)
Side Story #17+#18+#19: Grand Line Quiz Lady Level 1-3
Side Story #20: Tavern Troubles
Side Story #21: My Treasure
Side Story #22: Natural Underground Enemies
Side Story #23: Helping Iceberg 1
Side Story #24: Helping Iceberg 2
Side Story #25: Helping Iceberg 3
Marineford (5 Side Stories)
Marineford City Area (5 Side Stories)
Side Story #26+#27+#28: Grand Line Quiz Madam Level 1-3
Side Story #29: For Whom the Bell Tolls
Side Story #30: A Prisoner's Desire
Dressrosa (11 Side Stories)
Dressrosa City Area (11 Side Stories)
Side Story #31+#32+#33: Grand Line Quiz Mister Level 1-3
Side Story #34: Taken by Tontattas
Side Story #35: God Usopp 1
Side Story #36: God Usopp 2
Side Story #37: God Usopp 3
Side Story #38: Rebuilding Dressrosa
Side Story #39: Respected Elder
Side Story #40: Someone I Must Meet
Side Story #41: My Dearest Violet
Waford (30 Side Stories)
Waford South (30 Side Stories)
Side Story #42 – #60: Yaya Cube Collector 1-19
> One Piece Odyssey All 99 Yaya Cube Locations
Side Story #61+#62+#63: Madam Julie's Pupil 1-3
Side Story #64 – #70: Waford History 1-7
Side Story #71: Challenge Cube – NOTE: Minor Spoilers (Available after defeating the Final Boss)
> One Piece Odyssey Challenge Enemy Conqueror Guide (All Powerful Enemies)
https://usercontent.one/wp/www.ben-gun.com/wp-content/uploads/2023/01/323692626_538036598328294_1837916610016146932_n.jpg?media=1695481163
720
1280
Ben-Gun
https://usercontent.one/wp/www.ben-gun.com/wp-content/uploads/2022/12/cropped-Bengun-logo-new-300x257.png?media=1695481163
Ben-Gun
2023-01-21 13:47:22
2023-01-21 13:53:16
One Piece Odyssey All Side Stories Guide